Real Estate Business
1. Renovation Business
<Condominium (Strata Title),>
We provide high-quality housing to our customers by renovating family-friendly condominiums with products from the group of LIXIL.
For customers considering selling condominiums
・We will also consider renting condominiums.
・Even in the condominium where you live, you can continue to live after concluding a lease contract with the customer after the contract. (Leaseback)
・It is also possible to purchase multiple condominiums owned by business corporations at once.
We can also consider purchasing condominiums used as company housing not only in Tokyo, but also in Osaka and Nagoya in bulk.
If you conclude a lease agreement with us, the employees of your company who are occupying can continue to live there without moving out.
For customers considering purchasing our renovated condominium
We, one of the LIXIL's group companies, will support you as a seller, so please feel free to leave it to us.
In the unlikely accident that something goes wrong with the building after moving in, we will respond in good faith.
In addition, customers who have purchased the product have highly evaluated the "LIXIL products" used in the property.
LDK 1
LDK 2
LDK 3
Washstand
Bathtub 1
Bathtub 2
Toilet
Entrance Hall
<Residential Building for investment>
We will purchase a highly profitable one-building real estate, carry out large-scale repairs and interior remodeling to increase value and continue to sell to customers.
For example, we purchased a building that was partly rented to the outside and partly used as a single dormitory for employees. There was a case of selling that we increased the value by performing large-scale repairs such as rooftop waterproofing work and interior / exterior painting, remodeling each room into studios, and renting the parking lot to the parking lot operator in a lump sum.
2. Development Business
In April 2019, we started the development business of residential-related real estate for investment.
Utilizing the track record of rental management and renovation, we will develop development projects suitable for the location characteristics of the land.
We LIXIL REALTY have a lineup of "residential real estate for investment" from new construction to renovation.
We will continue to meet the diverse needs of our customers.
3. Brokerage Business for Buying and Selling and Leasing
<Residential Real Estate>
Specialized staff will wholeheartedly support the needs of individual customers, such as "want to sell," "want to lend," "want to buy," and "want to borrow."
In addition, our professional staff will carefully respond to inquiries regarding "inheritance" and "remodeling."
<Commercial Real Estate>
We will respond to customers' consultations on various asset utilization such as "utilization / sale of idle real estate", "real estate investment", and "asset recombination".
・ For example, for customers who are thinking about inheritance measures, for customers who are worried about future inheritance and who are "vaguely" thinking about purchasing real estate investment as an inheritance measure.
①We will propose the most suitable real estate investment based on the customer's asset status and family structure.
②After clarifying the needs of our customers, we will introduce real estate for investment that meets their needs. After purchase, we also support real estate rental management.
③ We will also propose remodeling for building maintenance.
We provide one-stop support from the emergence of real estate needs to maintenance and management after purchase.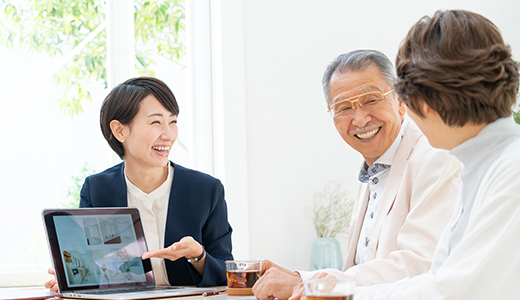 About ERA Network
Our company, which has the Japanese headquarters (franchiser) of ERA, which is a member of excellent community-based real estate agents all over Japan, as a subsidiary, will assist you in real estate transactions nationwide, from buying and selling for residential and business use to mediation of leasing.
For example, when a customer living in Tokyo sells the real estate of the parents' home in Kyushu, it is possible to introduce the most suitable ERA member shop based on the location and type of real estate in which it is located.